STONE BROKEN SIGN LONG TERM GLOBAL PUBLISHING DEAL WITH UPRAWR/NOTTING HILL MUSIC  
UPRAWR/Notting Hill Music are "mega stoked" to announce the signing of a worldwide long term publishing deal with STONE BROKEN and are extremely happy to welcome them to "the family"!  
Hailing from the West Midlands, STONE BROKEN will be following in the footsteps of local heroes Black Sabbath, Judas Priest, Led Zeppelin, Duran Duran, UB40, ELO, and many, many others, as they launch themselves on the road to world domination!!  
Both UPRAWR and Notting Hill are very excited to team up with the band, not only because of their powerful melodic song writing but also for the head strong and resilient work ethic they have shown with intense touring and festival appearances over the past couple of years.  
Roy Davis…Head of UPRAWR Music explains…"I tried to sign the band around a year ago…and missed out by one day!! I was truly gutted! Then around a couple of months ago, John Saunderson, Head of A&R at Notting Hill was approached by the band's new management to see if we were interested…were we! We went all out to make sure we didn't miss out this time around"  
With huge support from Planet Rock radio who are presenting next years debut headline tour and a recently inked global record deal with the legendary Universal Spine Farm Records, UPRAWR and Notting Hill are incredibly excited about being part of the team and looking forward to a very successful 2018.  
New single, 'Worth Fighting For', set for release on November 17th  
New studio album, 'Ain't Always Easy', lined up for March 2nd 2018  
Headline UK & European headline tour announced for February / March 2018 along with bill-topping festival appearances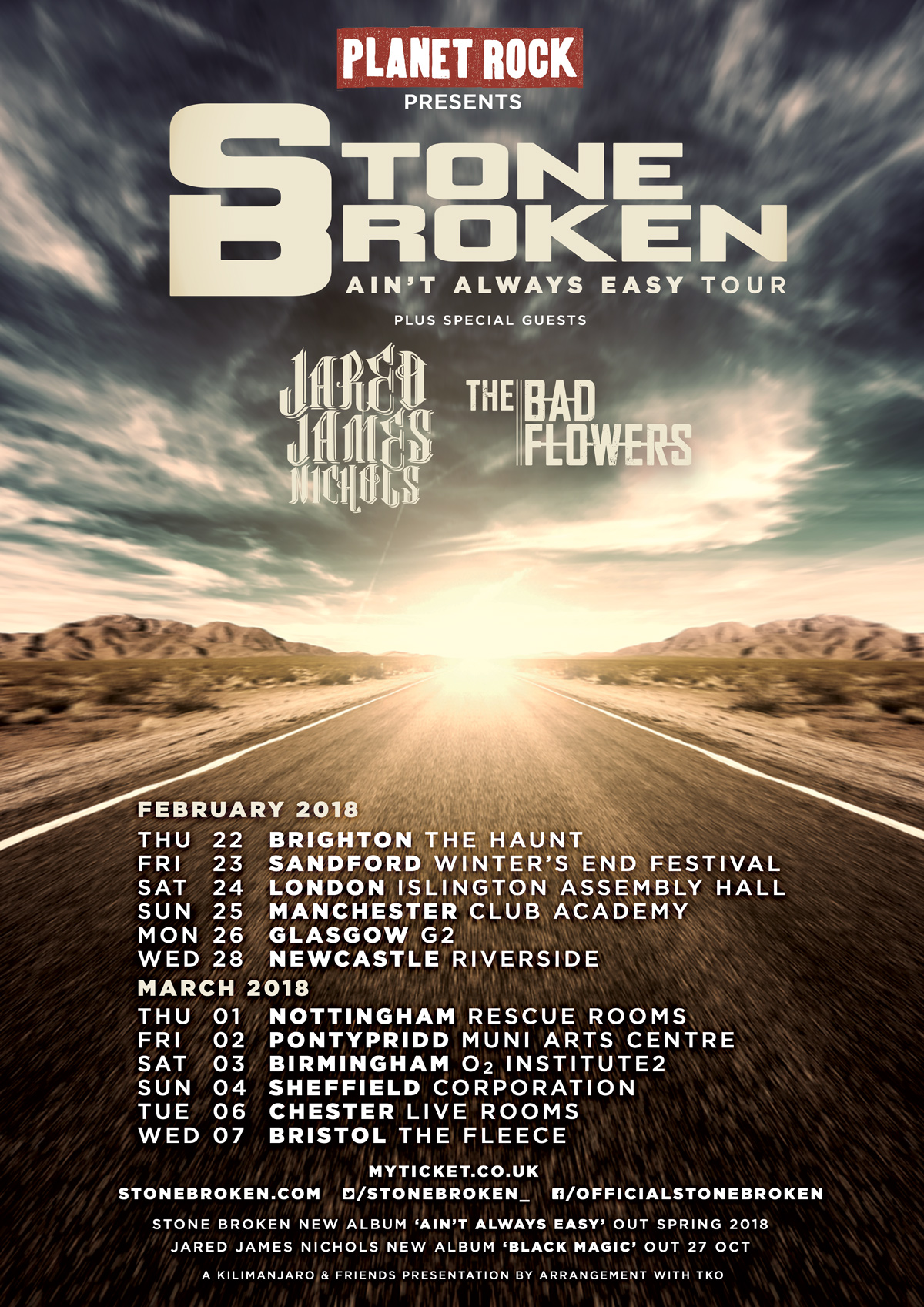 www.stonebroken.com www.facebook.com/OfficialStoneBroken  
@OfficialStoneBroken  
For more info on anything STONE BROKEN please contact Roy Davies Roy @oncebittenmusic.com; www.oncebittenmusic