STONE BROKEN SIGN WORLDWIDE DEAL WITH  
SPINEFARM RECORDS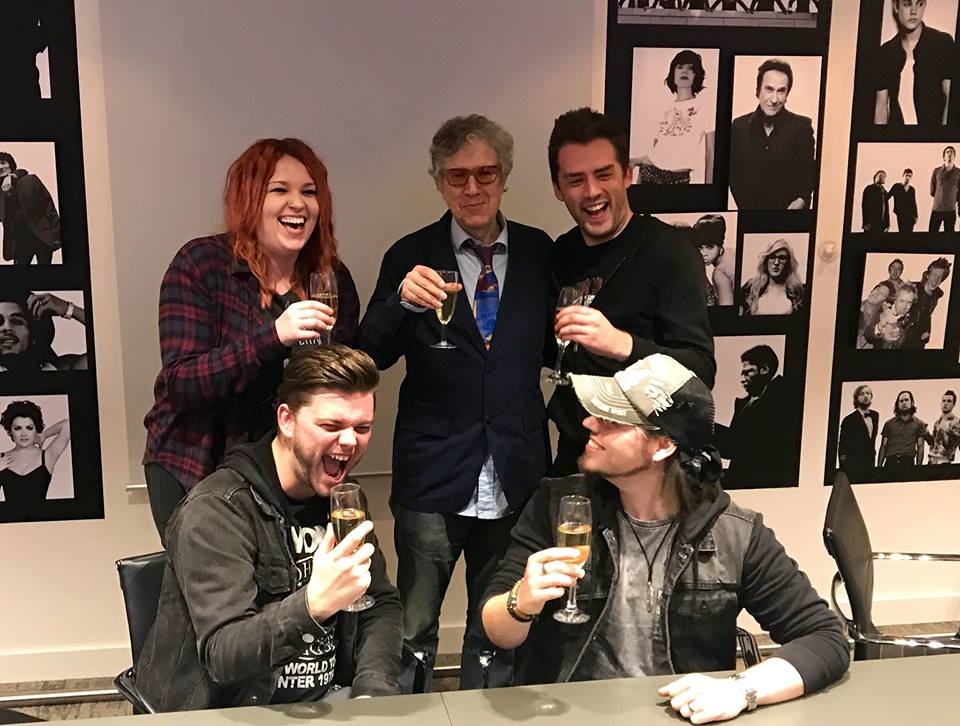 Stone Broken embark on a fresh chapter in their career having now joined forces with Spinefarm Records on a global basis; the first fruits of this new deal will be second studio album, 'Ain't Always Easy', set for release on March 2nd 2018.  
'Ain't Always Easy' – produced & mixed by Romesh Dodangoda at Long Wave Recording Studios in Cardiff, South Wales – sees the UK rockers further honing their innate ability to match musical and emotional weight to truly telling effect; the vision is broad, the song-writing skilful, the riffs 'n' choruses both memorable and mighty, the whole thing underpinned by a desire to shine the spotlight onto real issues, both personal and pressing.  
Lead single / lyric video 'Worth Fighting For' – due for worldwide release on November 17th – sets the tone for what's to come, bristling with energy and ambition, making it clear that the musicians are fully prepared for what lies ahead…  
Indeed, since the release of their 'All In Time' debut (2016), also helmed by Dodangoda, the four – Rich Moss (vocals / guitar), Chris Davis (lead guitar / vocals), Kieron Conroy (bass / vocals) and Robyn Haycock (drums) – have been fully occupied building their career and establishing the Stone Broken brand from their West Midlands base; along the way, they've forged a close bond with their fast-growing fan-base ('The Broken Army'), attracted strong media support (especially from Planet Rock, who are presenting the headline tour next year), and notched up impressive live achievements in the UK and Europe, including tours with Glenn Hughes and Living Colour, plus appearances at this year's Download and Ramblin' Man Fair, opening the main stage at the latter.  
Says Spinefarm Records UK Head of A&R, Dante Bonutto: "Who doesn't like big, driving riffs and massive choruses?! It's easy to be impressed with Stone Broken on a musical basis alone – at last, a UK band with the sound and the attitude to make it possible for them to compete with rock's elite names, most of them US-based. Add to this a down-to-earth approach, an understanding of the business side, plus a full-on work ethic, and you have a group whose career is already proceeding at pace. We're hitting the ground running here, and given the close relationship that already exists between audience and band, I'm sure that the Stone Broken / Spinefarm axis will pave the way for a seriously exciting future…"  
Over the next few months, Stone Broken will be appearing at selected UK festivals – including Planet Rockstock and Winter's End, where they occupy headlining slots.
FEBRUARY 2018 
Feb 22 Brighton, The Haunt  
Feb 23 Sandford, Winter's End Festival (headlining)  
Feb 24 London, Islington Assembly Hall  
Feb 25 Manchester, Club Academy  
Feb 26 Glasgow, G2  
Feb 28 Newcastle, Riverside  
MARCH 2018  
Mar 01 Nottingham, Rescue Rooms  
Mar 02 Pontypridd, Muni Arts Centre  
Mar 03 Birmingham, O2 Institute2  
Mar 04 Sheffield, Corporation  
Mar 06 Chester, Live Rooms  
Mar 07 Bristol, The Fleece  
Mar 09 Amsterdam, Melkweg (Upstairs)  
Mar 10 Cologne, MTC  
Mar 11 Hamburg, Logo  
Mar 13 Berlin, Musik & Frieden  
Mar 14 Munich, Strom  
Mar 16 Vaureal, Le Forum  
Mar 17 Verviers, Spirit of '66  
Special Guests on the February / March headline UK run are Jared James Nichols and The Bad Flowers.  
Don't forget to keep up to date with us over on Facebook, Twitter & Instagram!  
See you on the road! 
Rich, Robyn, Kie & Chris!